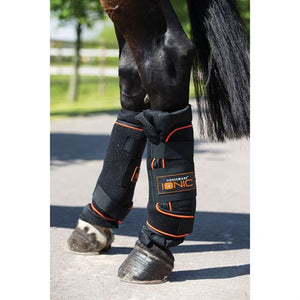 Rambo Ionic Stable Boots
Restores pH balance, reduces blood pressure, increases circulation, removes toxins from your body, removable poly cotton fabric insert, breathable
Rambo® Ionic by Horseware uses tourmaline infused patches to release negative ions. Rambo® Ionic combines the benefits of compression and negative ion therapy and can help to increase circulation, stimulate metabolism, and increase oxygen delivery to cells and tissue. The Rambo Ionic Stable Sheet is highly wicking and durable so the blanket can be used while traveling, in the stable, before and after exercise to promote the well being of the horse. The sheet can be used any time of year and will not make your horse hot and sweaty like some blankets can that promote circulation.
Sizing: When measuring your horse measure from the center of the chest to the center of the tail if your horse is between sizes choose the larger size. Boots are sold in pairs

WHAT ARE NEGATIVE IONS?

Negative ions are air molecules that have gained an electron to get a negative charge.
WHAT IS TOURMALINE?

Tourmaline is a naturally occurring crystal. When ground down to powder form it releases an electric charge which converts the surrounding air molecules to negative ions.
Sizing:
Full: 33 cm (approx. 12") wide x 30 cm (approx. 12") long Pad: 45 cm wide (approx. 17.7") x 45 cm long (approx. 17.7")
Extra Full: 42 cm (approx. 16.5") wide x 35 cm (approx. 13.8") long Pad: 50 cm (approx. 19.7") x 45 (approx. 17.7")
---
We Also Recommend