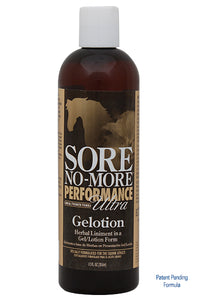 Sore-No-More Performance Ultra Geolotion 12oz
CAUTIONS
For topical use only. Not meant to be ingested. Keep away from immediate eye area. Do not use on open cuts or wounds. Keep out of reach of children. Keep away from an open flame. For equine and canine use only.
DIRECTIONS
Shake well before using.
Use on lower and upper limbs.
Apply to directly to skin and massage prior and after exercise on the back, legs, poll, or hocks.
Paint directly on sole of sore hooves.
Gelotion may also be applied to area and a wet, warm towel placed over gelotion application to help increase circulation
Safe to use under, tack, wraps, blankets and under therapeutics.
INGREDIENTS
Proprietary extract of witch hazel bark and leaves with the following common herbs: arnica (Arnica montana), rosemary (Rosmarinus officinalis), ginger (Zingiber officinale), comfrey (Symphytum officinale), and xanthan gum.
--
A thicker version of Sore No-More Performance Ultra Liniment that is easy to apply before and after a ride to tough areas.
The only herbal liniment proven to significantly reduce soft tissue soreness and inflammation in performance horses [1].
Allows for a more precise application to tough areas and provides for easy focus on areas of concern.
Trusted by veterinarians and equine therapists world-wide to offer fast relief for their patients.
The research proven, patent-pending Sore No-More® Performance Ultra Gelotion uses xantham gum to provide a thicker consistency to the trusted liniment formula, making it an ideal choice for use in areas where traditional, liquid liniment might run or prove difficult to apply. The specialized herbal extrusion process creates a clinical strength formula that works to reduce inflammation and increase circulation while remaining safe for use on sensitive horses.
Developed for high level competitors, veterinarians and therapists, this formula offers a worry free product to use on competition day and meets FEI regulations. Formulated with all-natural, herbal ingredients like all Sore No-More products, it is safe to use under tack, boots, wraps, blankets and with therapeutics. Highly absorbable, it infiltrates deep muscle pains without causing excess friction and warmth under tack and wraps. Amp up your post-injury care by using Sore No-More Performance Ultra Gelotion and help reduce inflammation and increase circulation to muscles, tendons and ligaments to promote timely healing.
[1] Heibeck SM, Walter KW, Altman JA, Karren BJ, Altman MA, Haussler KK. Effect of herbal liniment on equine back pain over time: a preliminary study. J. Anim. Sci. 2015; 93; 339-340.
---
We Also Recommend