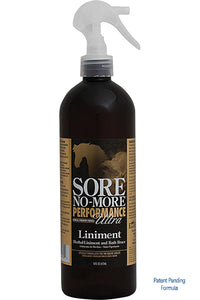 Sore-No-More Performance Ultra Liniment 16oz
CAUTIONS
For topical use only. Not meant to be ingested. Keep away from immediate eye area. Do not use on open cuts or wounds. Keep out of reach of children. Keep away from an open flame. For equine and canine use only.
DIRECTIONS
Shake well before using.
Use on lower and upper limbs.
Apply to directly to skin and massage prior and after exercise on the back, legs, poll, or hocks.
Paint directly on sole of sore hooves.
To use as a bath brace add a ½ oz. to 1 oz. per gallon of water.
Liniment may also be applied to area and a wet, warm towel placed over liniment application to get the same effect.
Safe to use under, tack, wraps, blankets and under therapeutics.
INGREDIENTS
Proprietary extract of witch hazel bark and leaves with the following common herbs: arnica (Arnica montana), rosemary (Rosmarinus officinalis), ginger (Zingiber officinale), comfrey (Symphytum officinale), and xanthan gum.
--
Shop clinical-strength, all-natural horse liniments.
The only horse liniment research proven to help reduce soft tissue discomfort, and improve the performance of equine athletes [1].
Specialized herbal extrusion process creates a clinical strength formula that retains Sore No-More's reputation of safety for sensitive skin.
Depended on by my many equine athletes and veterinarians to help reduce muscle, tendon, and ligament inflammation, while meeting FEI regulations.
Safe for use under tack and equipment — will not burn or blister.
Developed and formulated for high-level competitors, patent-pending Sore No-More® Performance Ultra Liniment is unparalleled in its efficacy and the only herbal liniment with research-proven benefits. Comprised of natural, herbal ingredients that will not irritate the sensitive-skinned horse, this horse liniment helps to alleviate soft tissue discomfort throughout the body. Take the worry out of competition day and help promote peak performance in horses that suffer from stiffness and swelling in muscles, tendons, or ligaments. Sore No-More Performance Ultra Liniment is also ideal for use while horses are rehabbing from injury or surgery. Apply before workouts to help release muscle tension for a more comfortable and progressive ride. Like all Sore No-More products, this clinical strength liniment is safe to use under tack, boots, wraps, blankets, and with therapeutics without detrimental effects. Your equine athlete deserves the best. Shop Sore No-More horse liniments at Arenus today.
[1] Heibeck SM, Walter KW, Altman JA, Karren BJ, Altman MA, Haussler KK. Effect of herbal liniment on equine back pain over time: a preliminary study. J. Anim. Sci. 2015; 93; 339-340.
---
We Also Recommend