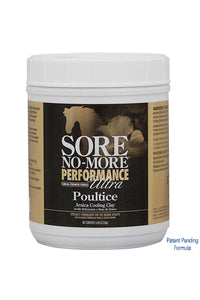 Sore-No-More Performance Ultra Poultice 5lb
CAUTIONS
For topical use only. Not meant to be ingested. Keep away from immediate eye area. Do not use on open cuts or wounds. Keep out of reach of children. Keep away from an open flame. For equine use only.
DIRECTIONS FOR USE
Smooth onto ankles, cannon/metacarpal/metatarsal region, knees and hocks to help reduce inflammation and ease discomfort. Use before and after exercise for best results.
Use with or without paper, plastic wrap or bandages.
May be used as a hoof pack to calm inflammation and tenderness; may assist with bringing abscesses to the surface.
INGREDIENTS
Bentonite (Bowie Type clay) and a proprietary extract of witch hazel bark and leaves with the following common herbs: arnica (Arnica montana), rosemary (Rosmarinus officinalis), ginger (Zingiber officinale), comfrey (Symphytum officinale) and Sodium Borate (as a preservative).
--
Non-irritating, clinical strength poultice that provides fast relief to the most vigorous of athletes by helping to prevent and reduce swelling in the lower the limbs.
Super smooth, cooling clay poultice that is easy to use alone or under wraps and, once dry, simply brush off. No scrapping involved!
Research proven formula that reduces discomfort from inflammation in performance horses [1].
Lobelia free and meets FEI regulatory requirements for competitors.
Patent-pending Sore No-More® Performance Ultra Poultice is a high grade clay poultice that is easy to apply and remove - simply smooth on and wash off once dry! The research proven, clinical strength formula provides a refreshing cooling action while quickly drawing heat and inflammation from muscles, tendons and ligaments. Like all Sore No-More formulas, the Performance Ultra Poultice uses a patent-pending combination of herbal ingredients to provide fast action and safe application on even the most sensitive horses. Veterinarian recommended and safe for use with therapeutics. Free from lobelia, capsaicin and menthol, this poultice meets the regulatory requirements of FEI competitors! Designed for application to the lower limb, use this poultice with or without wraps or try it as an effective hoof pack to alleviate sore hooves and assist in abscess healing.
[1] Heibeck SM, Walter KW, Altman JA, Karren BJ, Altman MA, Haussler KK. Effect of herbal liniment on equine back pain over time: a preliminary study. J. Anim. Sci. 2015; 93; 339-340.
---
We Also Recommend