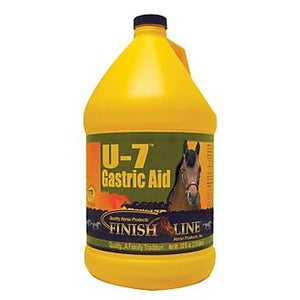 U-7 Gastric Aid
Finish Line® U-7™ Gastric Aid Liquid
Does your horse suffer from poor appetite, performance and behavior? If so, you should try Finish Line® U-7™. This innovative new formula is specifically for use with horses that experience a weak appetite, poor attitude, dreary coat, or decreased performance. It promotes stomach acid buffering and is recommended for horses confined to stalls or who engage in heavy work schedules.
Features:
Not a drug, will not test positive, and can be given over long periods
Includes all natural active ingredients that support digestive health in horses
Safe for foals
128 fl oz. (64-day supply)

Active Ingredients per fl. oz.:
Ascorbic Acid: 440mg
MSM: 290mg
Apple Pectin: 56mg
Brewers Yeast: 28mg
Grape Seed Extract: 18mg
Zinc Gluconate: 5mg
Inactive Ingredients:
Aloe vera powder, apple cider vinegar, apple flavoring, cabbage powder, carrot powder, cinnamon powder, FD&C blue #1, FD&C yellow #5, honey, licorice root, salt, slippery elm powder, sodium benzoate, water, xantham gum.
Directions for Use:
Give 2 oz. in the morning and 2 oz. in the evening for 30 days. Reduce to 1 oz. twice daily thereafter. (1 fl. oz. = 29g)
---
We Also Recommend