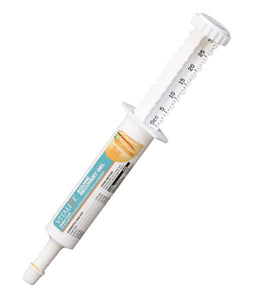 VITALIZE EQUINE GEL - 30ML
Provides faster recovery during stressful times such as high performance, antibiotic therapy, worming, surgery recovery, sickness or digestive upset such as diarrhea or the beginnings of colic. Natural Carrot flavor!
Contains the ideal balance of vitamins, organic minerals, amino acids and anti-oxidants as well as MOS and Amaferm® for maximum support of immune function and stress recovery.
Provides faster recovery during stressful times
Contains vitamins, minerals, animo acids, and antioxidants
MOS and Amaferm for maximum support of immune function
30 mL tube
THE AMAFERM® ADAVANTAGE
Amaferm® is a precision prebiotic designed to enhance digestibility by amplifying nutrient supply for maximum performance. It is research-proven to increase nutrient absorption resulting in maximized digestive health for improved performance.
Feeding Directions:
Recommended up to 2 times daily
Foals less than 400 lbs - 10 ml
Weanlings/yearlings - 10 to 30 ml
Adult horse - 30 ml
Ingredients: Soybean Oil, Dried Aspergillus oryzae Fermentation Product, Yeast Extract, Corn Starch, Mono- and Diglycerides, Dextrose Monohydrate, Dried Whey, Salt, Vitamin E Supplement, Zinc Proteinate, Potassium Chloride, Natural and Artificial Flavor, Niacinamide, d-Calcium Pantothenate, Vitamin B-12 Supplement, Ascorbic Acid, Riboflavin, Pyridoxine Hydrochloride, Thiamine Mononitrate, Biotin, Folic Acid.
---
We Also Recommend